Rent a car Kalamata Peloponnese
"My Car Rentals" was launched on February 2006 by Dionysia (Denia) Trigilida, a core member of the team that established the much respected and well-known Trigilidas Travel agency.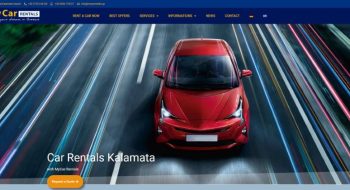 "My Car Rentals" is the top most recommended car rental company in Peloponnese- kalamata –  Kardamyli – Stoupa – Agios Nikolaos (Messinian Mani). With a central branch in prestigious Kardamili, with its extremely competitive rates and excellent service, "My Car Rentals" has quickly gained the respect and preference of tourists. At "My Car Rentals" we always provide our customers with quality, value, efficiency, accuracy and outstanding service! Utmostly professional and reliable, "My Car Rentals" caters to the discerning traveller, operating all year round and featuring new cars (such as the Chevrolet Matiz, Nissan Micra, Opel Corsa, Opel Astra, and Suzuki Jimny 4×4 convertible).
As standard, every single vehicle comes fully-equipped with A/C, ABS, Air Bags and Radio/CD player and baby seats can be included free of charge, as well as free delivery/collection of your car to (or from) Kalamata, Kalamata Airport, Kardamili, Stoupa, Agios Nikolaos and Agios Dimitrios (Messinian Mani). "My Car Rentals" is flexible with rental days, and is especially recommended for its special deals and long-term car rental offers.